ACCOMPANIED BY OFFICIAL PLAYSTATION 5 AND GRAN TURISMO LICENSES
Refined and perfected over 23,000 hours of intensive Research and Development, the T-GT II was conceived to raise the bar even further in the Force Feedback performance provided by its predecessor (the T-GT). Thanks to the T-GT II, ​​PlayStation 5, PlayStation 4 and PC gamers will enjoy unprecedented precision and robustness.
Accompanied by the official PlayStation 5 and Gran Turismo licenses, in GT Sport the T-GT II steering wheel offers realistic sensations and fundamental advantages, thanks to its fantastic technologies, such as T-LIN, T-DCC and above all T-DFB (3D perception of Force Feedback effects).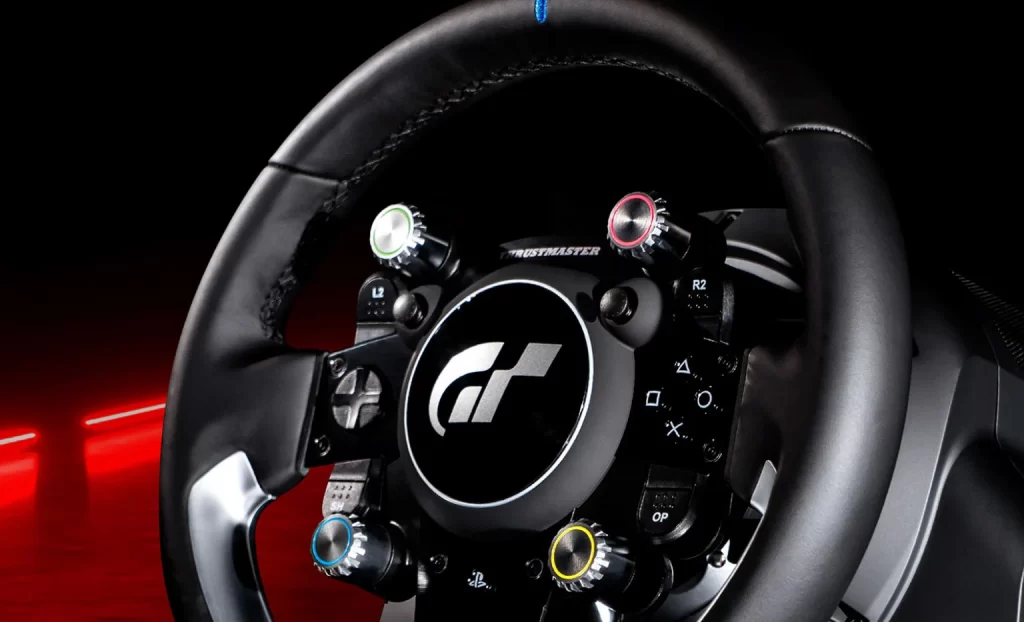 T-AEC-Q: SPAN
In order to guarantee the highest levels of quality over time, the T-GT II is characterized by a completely new electronic design, with pre-printed circuits – AEC-Q certified, directly from the world of the automotive industry.
This revision of the internal components of the Thrustmaster T-GT II was born to meet the demands of the most expert and most competitive drivers in the world, who use their driving simulation peripherals as real work tools — in the very long training sessions and in races of incredible intensity.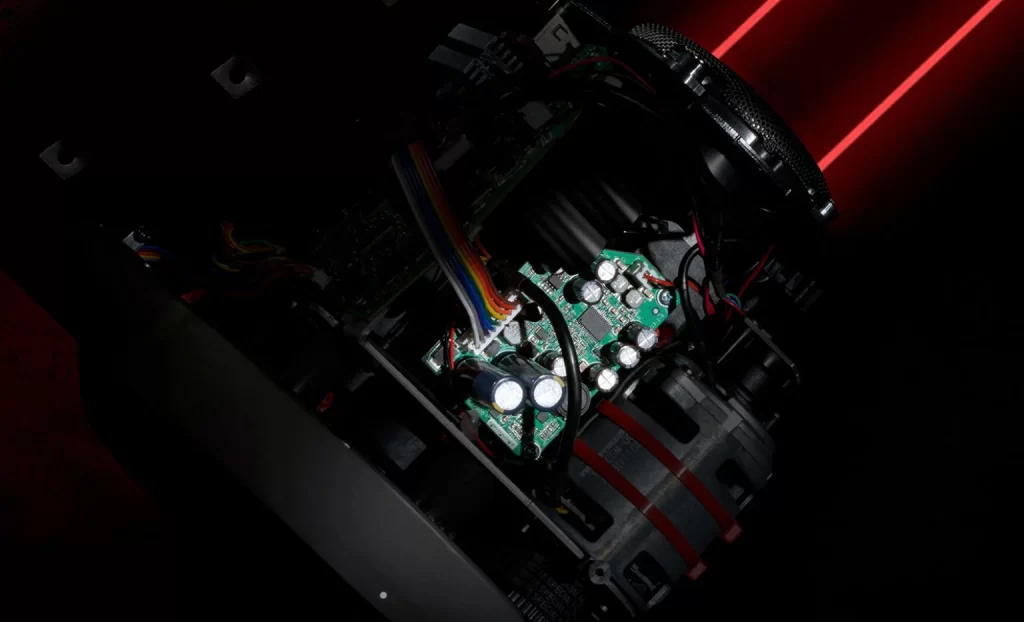 T-DCC: ACCURACY
Drift management is a "must" for all drivers who wish to have total control over the skidding of their car in bends.
For this reason, the T-GT II features real-time drift curve calculation (T-DCC) technology, which keeps the level of responsiveness of the wheel and the car constant, in all game situations. This integrated T-DCC function allows gamers to focus their attention on executing extremely precise movements, to always find themselves a step or two ahead in terms of drivability.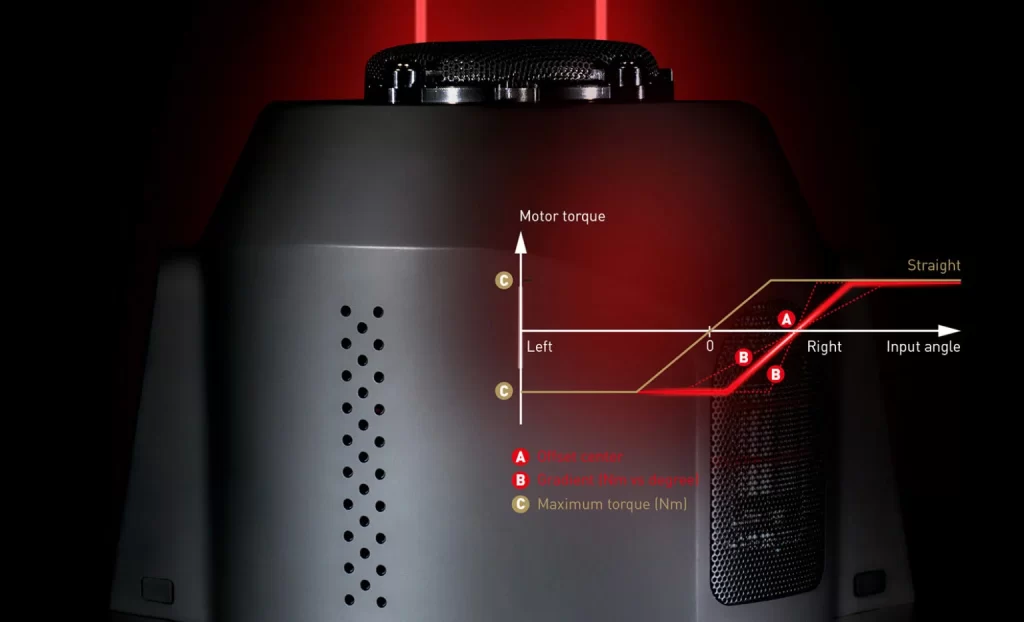 T-RTF: REACTIVITY
The Real Time Force Feedback (T-RTF) system reduces Force Feedback calculation times, for instant responsiveness.
Force Feedback effects are managed, in real time, by an integrated processor: this means that these effects do not depend on the game itself, to avoid any drop in responsiveness; and the icing on the cake is that all this is available to all players, both on consoles and on PC. In this way, Thrustmaster's proprietary T-RTF technology guarantees users gameplay without dead zones or latency.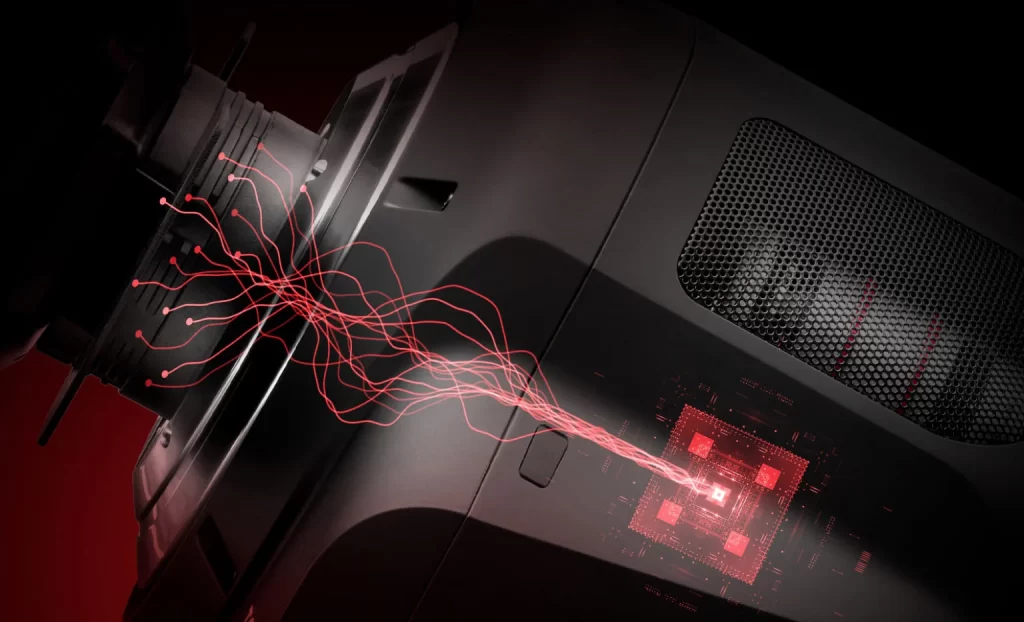 T-LIN: LINEARITY
The Thrustmaster T-GT II racing wheel guarantees absolutely linear Force Feedback effects: the force perceived by the user is fully proportional to the force calculated by the game. Car behavior and track conditions are faithfully reproduced, with a sensational level of detail.
In this way, drivers will be able to predict movements and react more effectively to track conditions, thanks to the information transmitted via the steering wheel. This increases users' level of knowledge of their driving, helping them to set new records and win races.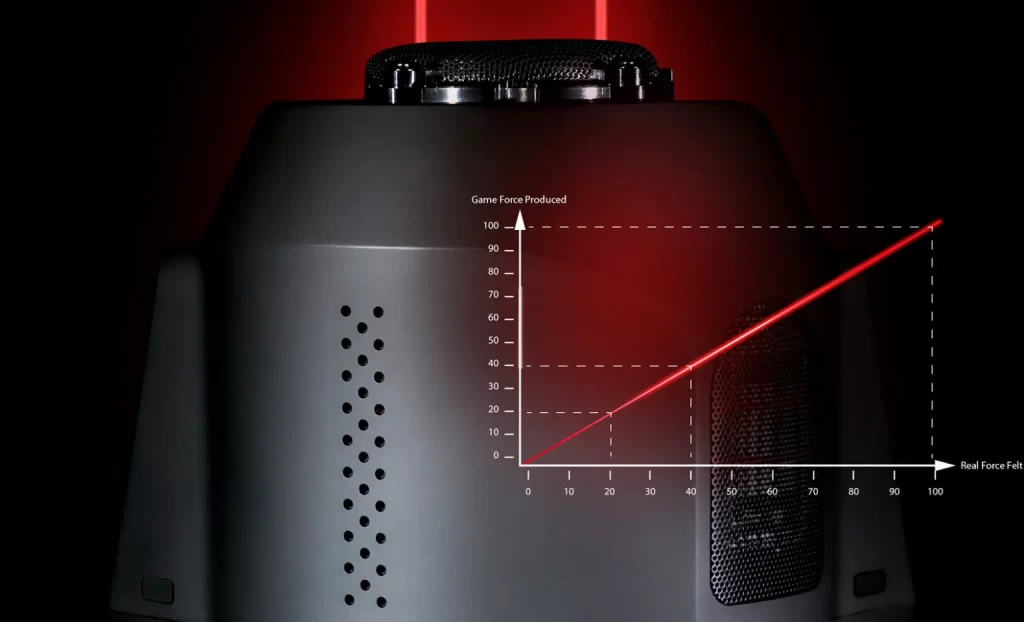 T-40VE: SPEED
The 40-watt motor of the T-GT II steering wheel is distinguished by its perfectly linear Force Feedback and incredible speed (dynamic torque) — from long corners to very responsive chicanes.
This very powerful motor develops the speed necessary to generate extremely dynamic and powerful effects. Furthermore, thanks to its speed, the motor transmits faster and more powerful responses to the pilots in real time, exploiting Thrustmaster's proprietary T-LIN technology.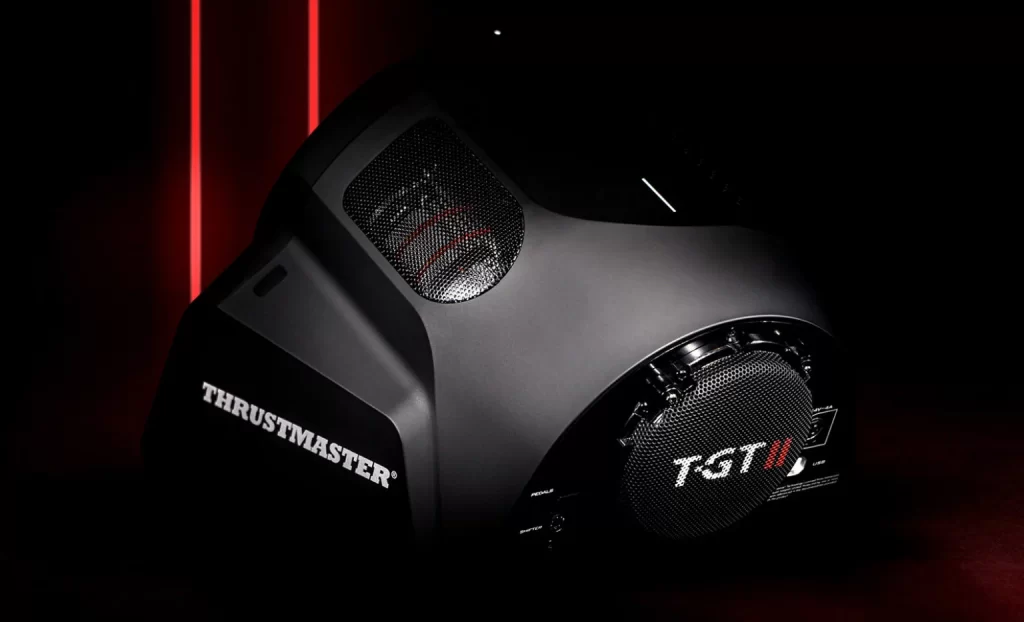 T-DFB: DEPTH
Years of collaboration with Polyphony Digital have created precise sensations coming from the steering column.
By combining the refined Force Feedback of the brushless motors with this Depth Feedback technology itself, a realistic 3D perception of the environment is achieved. As a complement to the standard Force Feedback, this system improves the driving experience, thanks to a new range of effects, such as tire adherence (grip or slip) understeer or oversteer, mass transfers, track conformation and irregularities, suspensions and other specific parameters for each vehicle and circuit.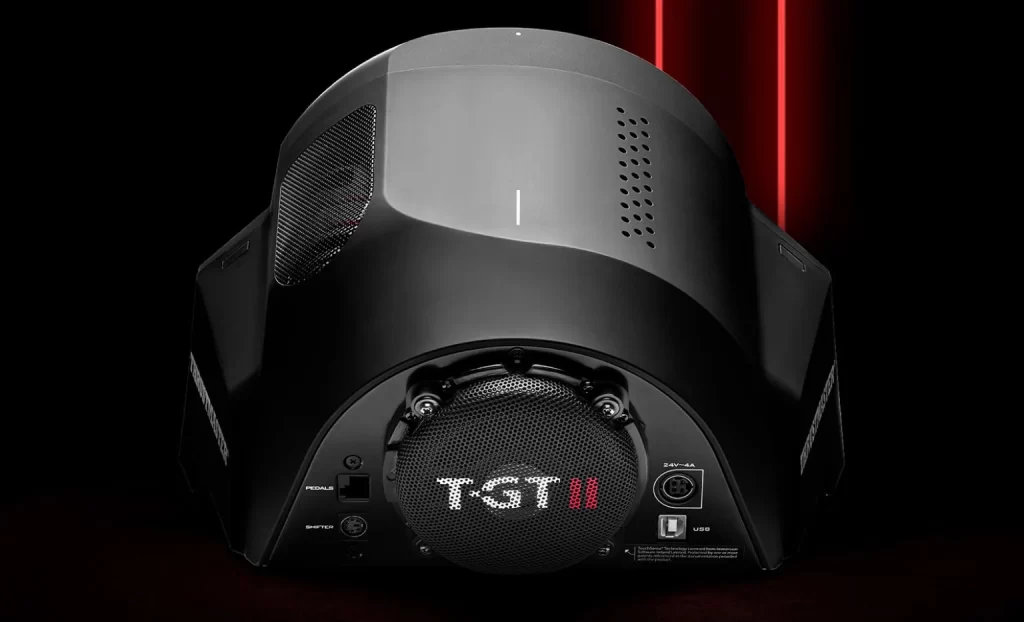 T-TURBO: POWER
This external power supply delivers constant power and a significant peak power (400 watts), to instantly respond, thanks to the T-LIN function and the T-40VE motor, to the very rapid requests coming from games, such as power drifts or series of chicanes.
The toroidal profile of the power supply optimizes heat efficiency (86%) thanks to a finless design.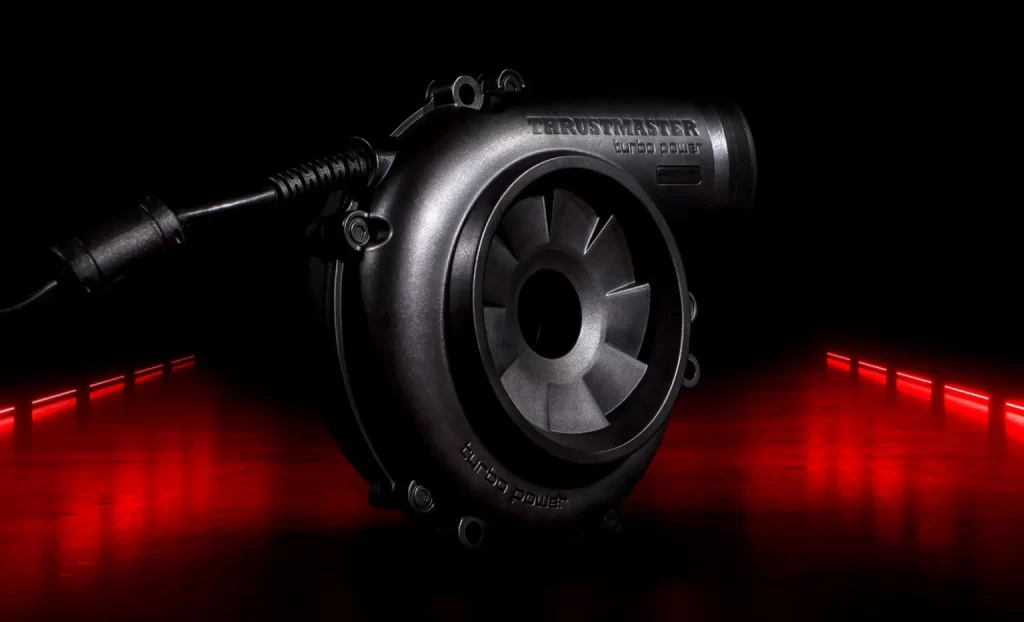 T-M.C.E.: STABILITY
The Motor-Cooling-Embedded system, combined with the powerful T-40VE motor, preserves linearity and dynamics.
Thanks to T-M.C.E. technology, the T-40VE motor manages heat transfer and dissipation more efficiently than ever before. The T-40VE integrates this cooling system right into the heart of the engine, in an extremely narrow and circumscribed environment. This combination guarantees constant precision in the T-GT II's generation of performance and effects, even in the longest driving sessions, allowing drivers to perceive the various sensations in all their complexity.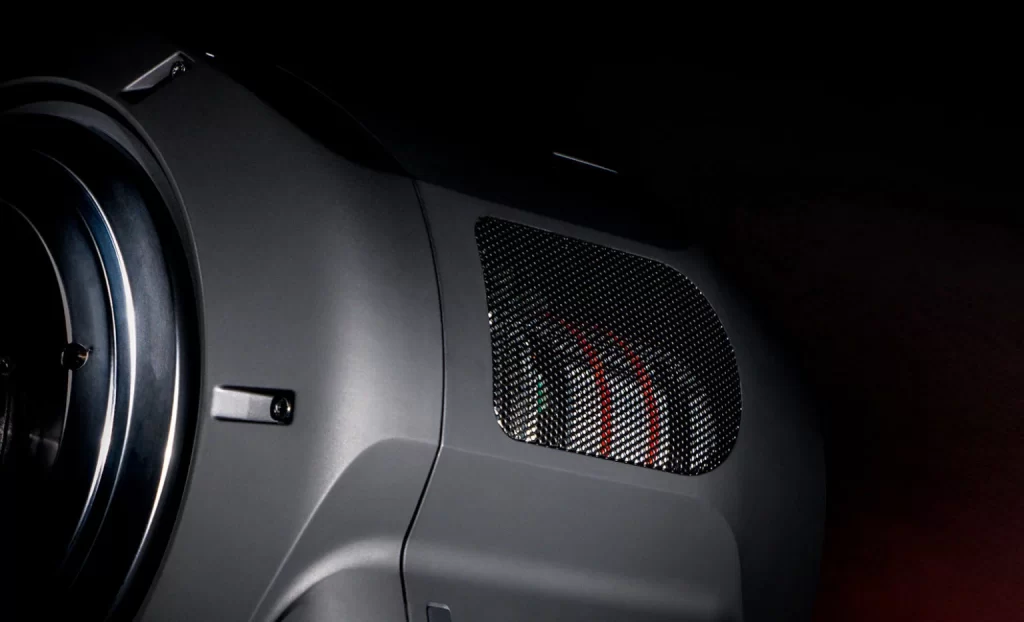 T-F.O.C.: CONTROL
T-F.O.C algorithm with Hall Effect sensors: Thrustmaster patented technology detects, with extreme accuracy, the position of the steering wheel and guarantees unrivaled precision.
Thanks to its precision and the use of an F.O.C. optimized, the engine responds quickly and dynamically to requests for more torque, while reducing power losses. T-F.O.C. with Hall Effect sensors: Thrustmaster patented technology detects, with extreme accuracy, the position of the steering wheel and guarantees unrivaled precision.
Thanks to its precision and the use of an F.O.C. optimized, the engine responds quickly and dynamically to requests for increased torque, while reducing power losses.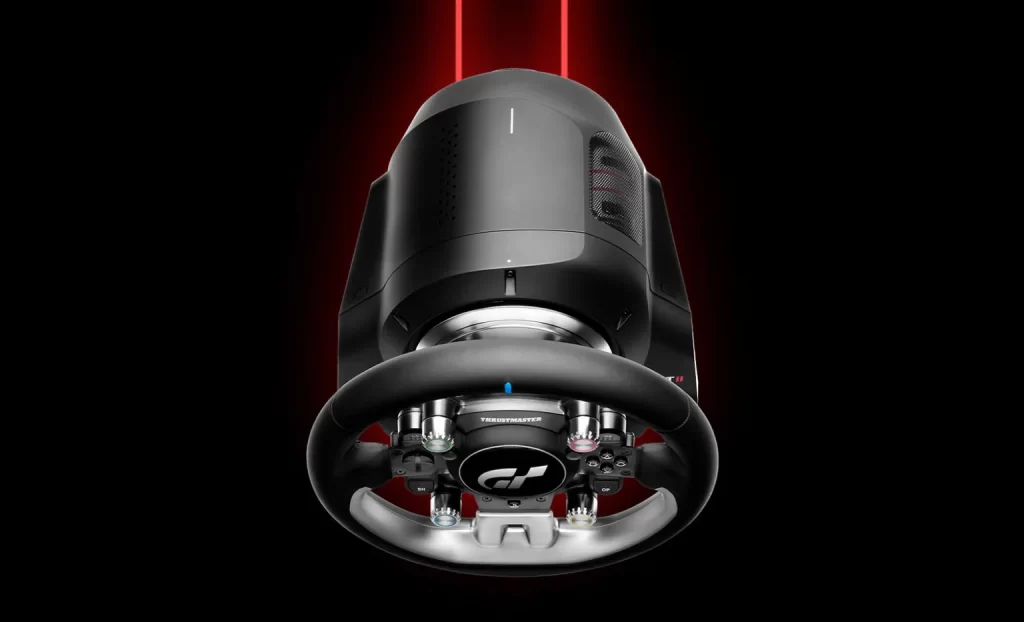 ---
FURTHER DETAILS
Length: 525 mm
Depth: 380 mm
Height: 310 mm
T-GT – List of PlayStation®5 games:
With the USB slide switch in the "MORE" position, your racing wheel works with the following PS5™ games (#):
Note: On PlayStation®5, your racing wheel is also compatible with all compatible PS4™ games, listed in the PLAYSTATION®4 GAME LIST section.
– DiRT® 5 – PS5™
– F1® 2021 – PS5™
– MONSTER TRUCK CHAMPIONSHIP – PS5™
– SRX: The Game – PS5™
– STREET OUTLAWS 2 – Winner Takes All – PS5™
– WRC 9 – PS5™
– WRC 10 – PS5™
– WRECKFEST – PS5™
More games coming soon
(#) The compatibility of PS5 games has been supported and tested by Thrustmaster. At the time of publication, PS5 compatibility of the entire lineup has not been supported or tested by Sony Interactive Entertainment LLC.
T-GT – PlayStation®4 games list:
Your racing wheel is compatible with the following PS4™ games:
With the USB sliding selector in the "GT" position:
– GRAN TURISMO® Sport
With the USB slide selector in the "OTHER" position:
– AUTOBAHN POLICE SIMULATOR 2 (*)
– ASSETTO CORSA
– ASSETTO CORSA COMPETIZIONE
– BUS SIMULATOR 18
– CarX Drift Racing Online
– DAKAR 18
– DiRT RALLY™
– DiRT RALLY™ VR
– DiRT RALLY 2.0™
– DiRT® 4
– DiRT® 5
– DRIVECLUB™
– DRIVECLUB™ BIKES
– DRIVECLUB™ VR
– FARMING SIMULATOR 15 (*)
– FARMING SIMULATOR 17 (*)
– FARMING SIMULATOR 19 (*)
– FIA Truck Racing Championship
– F1® 2015
– F1® 2016
– F1® 2017
– F1® 2018
– F1® 2019
– F1® 2020
– F1® 2021
– GRAVEL
– GRID™
– MONSTER TRUCK CHAMPIONSHIP
– MudRunner: A Spintires game (*)
– Nascar Heat Evolution
– Nascar Heat 2
– Nascar Heat 3
– Nascar Heat 4
– Nascar Heat 5
– Need for Speed™ Heat
– OVERPASS
– PROJECT CARS
– PROJECT CARS 2
– PROJECT CARS 3
– SEBASTIEN LOEB RALLY EVO
– SnowRunner
– SRX: The Game
– STREET OUTLAWS 2 – Winner Takes All
– Super Street: The Game
– THE CREW™
– THE CREW™ WILD RUN
– THE CREW™ 2
– TONY STEWART'S ALL-AMERICAN CAR RACING
– TONY STEWART'S SPRINT CAR RACING
– TRUCK DRIVER
– V-RALLY 4
– WRC 5
– WRC 6
– WRC 7
– WRC 8
– WRC 9
– WRC 10
– WRECKFEST
– XENON RACER (In this game, you can adjust the STEERING ANGLE from 40° to 180° by going to SETTINGS / GAME / STEERING ANGLE)
(*) IT – In this game (to make the most of all the features available), you can use the steering wheel and the official controller of the console simultaneously. In this game, there is no Force Feedback effect, but the automatic re-centering of the wheel
Base T-GT II
T-GT II removable steering wheel
T3PA GT II pedal set
Turbo Power Power Supply + Power Cord
Fixing system (vice)
User manual
Flyer with warranty information